07 July 2020
The Norwegian Ministry of Defence, headed since 2017 by Frank Bakke-Jensen, released its latest Long Term Defence Plan on 17 April 2020. These strategic reports, released every four years, are designed to ensure that the armed forces of Norway are well prepared and equipped for an ever-changing international security environment. The 2016 edition was designed to set the foundations for a more capable and sustainable force which is better prepared for an increasingly hostile security environment. The latest Long Term Defence Plan significantly evolves from that foundation, continuing to develop the Norwegian Armed Forces into a "more joint, robust, interoperable, resilient, and ready force" (Norwegian Ministry of Defence, 2020, p.2).
The report maintains that the world has become a vastly different place since 2016 and that the negative security outlook presented in the previous plan has accelerated (ibid, p. 8). This is reflected in Norway's latest defence outlook and planning. There is an acute awareness that "threats are more serious and the deterioration of the security environment is happening faster than previously assumed" (ibid, p.2).
Investment in defence and security is a key priority for the Norwegian government. In concrete terms, the Defence Plan proposes to reach the NATO minimum goal of allocating 2% of GDP for defence spending by 2028, which would involve an overall increase of 27% (Norwegian Ministry of Defence, 2020, p.18; Darling, 2020). The document also outlines how Norway uses its Total Defence Concept to incorporate both civilian and military actors in guaranteeing national security, enhances threat recognition, and reiterates Norway's commitment to interoperability and cooperation.
Norway's Defence Concept
The Long Term Defence Plan outlines three main lines of effort: "national defence, the collective defence within the framework of NATO, and bilateral support and reinforcement arrangements with close allies" (p. 4). Norway has contributed considerable resources to NATO operations in the Balkans, Afghanistan, Standing Maritime and Mine Countermeasures, and the fight against ISIL (NATO, n.d.). In 2018, the Defence Minister Frank Bakke-Jeansen reaffirmed Norway's commitment to NATO by calling the country "NATO in the High North " (NATO Parliamentary Assembly, 2018).
Norway's strategically important location in the High North continues to present considerable challenges. The Defence Plan (p.9) outlines a number of key challenges including a new strategic environment characterised by rapid change and increasing uncertainty, as well as the shifting power balance towards China. Norway must contend with the ability of Russia and China to utilise state power to achieve political, military, and economic objectives in an attempt to decrease the influence of Europe and the United States. At the same time there is considerable pressure being placed upon the rules-based world order, an "interlacing of military and civilian sectors in the security domain", and technological advances including the rise in hybrid warfare and grey zone activities.
To combat these new and evolving challenges, Norway has expanded on a modern and well-prepared Total Defence framework. This framework, as outlined in the Long Term Defence Plan, relies heavily on a whole-of-government approach in which the public and private sectors cooperate on national security (p.16). Furthermore, civilian-military cooperation in which all necessary resources can be mobilised in the defence of Norway provides a whole-of-society approach to security issues. This cross-cutting Total Defence framework, along with an increased investment in armed forces and expanded societal awareness and resilience, constitutes the trilateral foundation of Norway's Defence Concept (p.7).
Increased Defence Budget
The new Total Defence Plan includes a significant budget increase of NOK16.5 billion (approximately $1.6 billion) by the year 2028. Norway's pledge to reach NATO's 2% spending goal is both enterprising and admirable, as at present only nine of the alliance's 30 members have met the goal (NATO, 2019, p. 9). This ambitious funding increase is aimed at modernising and reforming all branches of the Norwegian military (see Norwegian Ministry of Defence, 2020, p. 14).
According to the Long Term Defence Plan (p. 18), the number of personnel will be gradually increased to enhance the readiness, availability, and combat power available to the Armed Forces. At the same time, it aims to restructure its personnel system to ensure a more diverse workforce, more capable of meeting modern technological standards (ibid.).
The Norwegian military's equipment is also set to undergo various reforms in the coming years. Regarding the Navy, Norway will undertake necessary upgrades on its four Fridtjof Nansen Class Frigates; the Six Ula Class submarines will be replaced by four new Type 212 submarines; three new Coast Guard vessels will be introduced in 2021–2025; and the planning and replacement of surface vessels to preserve operational capacity past 2030 will begin (ibid., p.14). The Air Force will replace the fleet of P-3 Orions with Poseidon maritime patrol vehicles, and the NASAMS II air defence systems will be upgraded with modern sensors including introducing a "complementary capacity with shorter range". The F-16 will also continue to be phased out, replaced by 52 F-35s (ibid, p.20).
The Special Forces will replace their fleet of Bell 412 transport helicopters with a new capacity which is better suited for both national and international operations (ibid, p.14). The army, meanwhile, is reorienting toward "increased firepower, higher readiness, and increased sustainability". The Defence Plan document outlines that Norway's Brigade North will be developed with four manoeuvre battalions, equipped with new main battle tanks, mobile air defence systems and long-range precisions fire, in order to ensure that the army remains "relevant in a new security environment" (ibid, p.14). The focus on modernisation and equipment upgrades indicates that Norway continues to take responsibility for the defence of the country in addition to being a willing and capable ally.
In terms of innovation, the document states that Norway will "increasingly consider commercial off-the-shelf solutions", and strengthen its cooperation in procurement with European and NATO allies (p.18).
Old and Current Threats
A 2020 RAND report commissioned by the Norwegian government noted that NATO assessments highlight the "horizontal escalation" of a conflict starting elsewhere as the most serious threat to Norway and the High Arctic region more broadly (Black et al, 2020, p.7). Conflicts emerging in another region, such as NATO's eastern or southern flank, have the potential to swiftly move into Norway's neighbourhood, primarily due to Article 5 of NATO's mutual defence pact (ibid, p. 7). The High North is a strategically important region for Russia, with nuclear submarines and aircraft patrolling the Barents Sea and the Arctic Ocean, which are prepared to disrupt enemy traffic if needed (ibid, p.8). These threats will be exacerbated by environmental changes and melting ice.
The Rand report also indicated that Norway faces non-conventional threats to the High North, including the sophisticated range of cyber and electronic warfare means which are readily available to modern militaries, as well as the rise of non-state actors and terrorism (ibid, p.12). According to the Long Term Defence Plan, the 'strengthening of the national intelligence service' (p. 14) can be read as a response to this threat.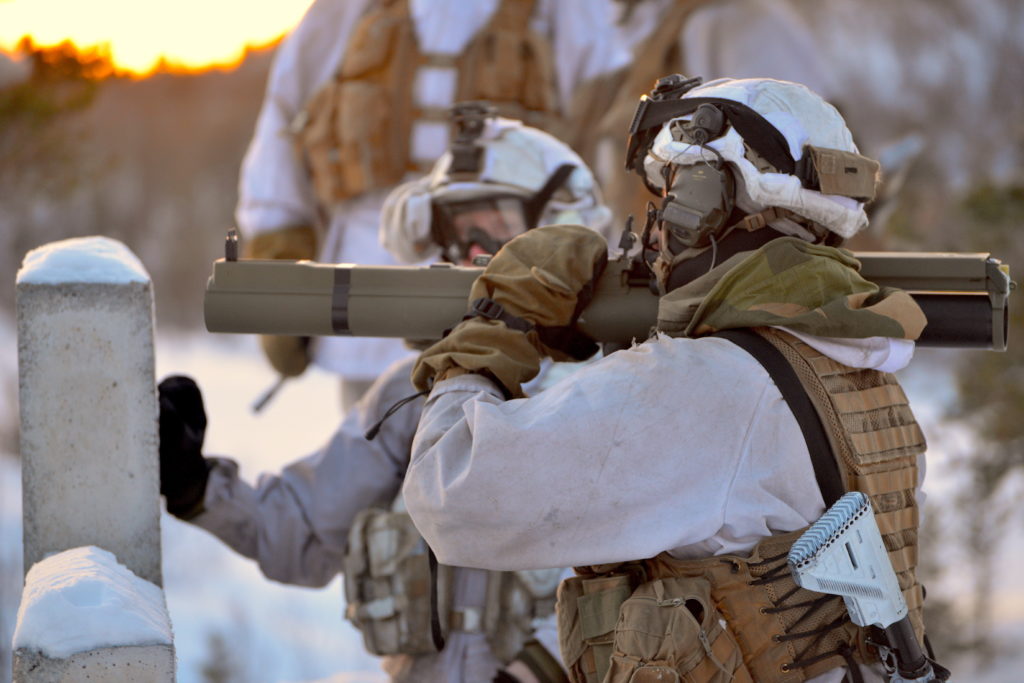 Crucial Importance of Cooperation
Unsurprisingly, the Defence Plan (p. 16) states that Norway's security rests on the collective capabilities of NATO and other close allies. Norway has consistently been hailed as a partner which punches above its weight in international military collaboration. Already before the planned spending increases, the country spends more on defence per capita than any other European country and their budget is nearly double that of Denmark or Finland (Lindgren & Græger, 2017, p. 97). For instance, Norway is one of the few countries with advanced minesweeping capacities and maintains an extensive and consistently upgraded fleet of HUGIN autonomous underwater vehicles, Ula class submarines and F-35 fighter jets (ibid, p. 98).
Norway is a valued ally in part due to their predictable and reliable nature. Norway works within the confines of NATO while participating in joint exercises such as hosting the Trident Juncture 2018, Cold Response 2020, as well as participating in the BALTOPS exercise in the Baltics, just to name a few. Norway also participates in European Union joint operations such as Operation Atalanta and assigning forces to European Union BattleGroups (ibid, p.101). Throughout the latest Long Term Defence Plan, there are references to the importance of cooperation and the viability of Norwegian interoperability. Four of the nine 'tasks of the Norwegian Army' are related to collective defence and long-term collaboration (Norwegian Ministry of Defence, 2020, p. 4).
Conclusion
Norway's Long Term Defence Plan 2020 offers a compelling and encouraging examination into the future of Norway's armed forces. The expanded budget proposals and commitment to equipment upgrades are a welcome reprieve for Norway's allies who depend on Norway's defensive capabilities in the strategically important High North. Conversely, Norway acknowledges the value of military partnerships and enhanced interoperability. Norway's intentions are clearly aimed at countering modern threats, remaining vigilant to established risks, and taking further steps to ensure Norway is well equipped to meet the needs of an ever-changing security environment.
---
Written by Peter Merritt, Defence Researcher at Finabel – European Army Interoperability Centre
Sources
Black, J., Flanagan, S. J., Germanovich, G., Harris, R., Ochmanek, D., Favaro, M., Galai, K. & Gloinson, E. (2020) Enhancing deterrence and defence on NATO's northern flank: Allied perspectives on strategic options for Norway. Santa Monica, CA: RAND Corporation. Available from https://www.rand.org/pubs/research_reports/RR4381.html, accessed 17 June 2020.
Darling, D. (2020, April 20) Norway Unveils Latest Long-Term Defense Plan. Defense & Security Monitor. Available at https://dsm.forecastinternational.com/wordpress/2020/04/20/norway-unveils-latest-long-term-defense-plan/, accessed 17 June 2020.
Lindgren, W. Y., & Græger, N. (2017). The Challenges and Dynamics of Alliance Policies: Norway, NATO and the High North. In Global Allies (pp. 91-114). Australian National University Press.
NATO (n.d.) Norway. Shape.nato.int. Available at https://shape.nato.int/norway, accessed 17 June 2020.
NATO (2019) Defence Expenditure of NATO Countries (2013-2019). Available at https://www.nato.int/nato_static_fl2014/assets/pdf/pdf_2019_11/20191129_pr-2019-123-en.pdf, accessed 17 June 2020.
NATO Parliamentary Assembly (2018, March 11) Norway to remain "NATO in the North". Available at https://www.nato-pa.int/news/norway-remain-nato-north, accessed 17 June 2020.
Norwegian Ministry of Defence (2020) The defence of Norway: Capability and readiness. Long Term Defence Plan 2020. Available at https://www.regjeringen.no/contentassets/3a2d2a3cfb694aa3ab4c6cb5649448d4/long-term-defence-plan-norway-2020—english-summary.pdf, accessed 17 June 2020.