18 February 2020
The Russian Threat
Following the Russo-Georgian war in 2008 and the annexation of Crimea in 2014, the whole of Europe is aware of the potential threat Russia represents on its eastern flank and the necessity for enhanced interoperability between its armies. In particular, seventy years after the deportation of 100,000 of their people to Siberia, the states of Estonia, Latvia and Lithuania take their security against Russia very seriously. For Olya Oliker, senior adviser and director of the Russia and Eurasia Program at Center for Strategic and International Studies, "the Russians do not seem to have any designs on the Baltic countries,". But the Baltic states remain cautious. Especially since a report by the American think tank Rand Corporation has demonstrated that they could be defeated in three days by Russia.
The Baltic countries have only eleven infantry or light infantry battalions, while Russia counts twenty-two in the Western Military District, including thirteen tanks, motorized, or mechanized infantry units. In that regard, it is essential to distinguish on the one hand the term "motorized" which refers to devices equipped with one or several motors and on the other hand "mechanized" which refers more extensively to the use of vehicles. In terms of human resources, with only 22,000 people under arms in the Baltics (without considering the conscription), Baltics can rely on militias such as The Defense League in Estonia, the National Guard in Latvia or the Riflemen's Union in Lithuania. These militias would be very useful in case of invasion, and they would be part of a "total war" strategy within which all citizens play a role in defence of the country.
How Should the Baltics fill the gap
According to Rand estimates, to deter Russia, Baltics need planes, artillery, tanks and seven additional brigades, with one of which motorized. In addition to conventional capabilities, and due to their tiny budget allocated to defence (around $600 million to $800 million each), Baltics states could correlate a total war strategy with unconventional warfare tactics by acquiring robust technology equipment including all-terrain mobility vehicles. One of the component Baltics States are improving to face the Russian threat is the motorized capacity, and this article will be dedicated to the development of this one.
Lithuanian efforts to develop its motorized capacity
Among the different Baltics countries, Lithuania seems to be the one who has done the most to enhance its motorized capability these last past years. In 2015, the Lithuanian State Defense Council decided to create a motorized infantry brigade, based in Klaipeda with the Operational Planning and Control Centre of the Lithuanian Land Force HQ at its core. This brigade called Žemaitija and containing 2,000-3,000 troops, was activated in January 2016. Its purpose is to protect and defend land territory. Two battalions of the Lithuanian Land Force, the Lithuanian Grand Duke Butigeidis Dragoon Battalion in Klaipeda and the Lithuanian Grand Duke Kestutis Mechanized Infantry Battalion in Taurage were assigned to Žemaitija brigade. In July 2019, the Lithuanian chief of defence, Major General Valdemaras Rupsys, said he was seeking to accelerate new armoured vehicles and to complete the formation of the Žemaitija brigade. He also highlighted the necessity of interoperability between them and with NATO's units. Also, Lithuania can count on its Mechanized Infantry Brigade Iron Wolf which represents the core unit of its army and its contribution to NATO. The updating of this brigade in 2016 with the restoration of two infantry battalions to its composition (King Mindaugas Hussar and Grand Duchess Birute Uhlan) was a significant move for the development of the country's land forces.
Lithuanian procurements to enhance its motorized capacity
In 2017, Lithuania raised its defence budget by 21%. It started discussing with the U.S. Defense Department about an acquisition of 200 Joint Light Tactical Vehicles (JLTVs), more specifically Oshkosh Defense L-ATV light tactical vehicles. Last July, the U.S. State Department approved the sale of 500 JLTVs to Lithuania. Nevertheless, the Lithuanian Defense Ministry explained that the country had planned to buy only 200 vehicles and that it was prepared to allocate $157 million to their acquisition and maintenance. This acquisition was part of the upgrading of the land forces, as well as the purchase, for $429 million, of Boxer infantry fighting vehicles (renamed "Vilkas", or "wolf" in Lithuanian). Indeed, last July, the Lithuanian Army received two of the 88 Vilkas Infantry Fighting Vehicles (IFVs) produced by the German constructors Rheinmetall and Krauss-Maffei and dedicated to two battalions of the Iron Wolf mechanized infantry brigade, in Rukla (Algirdas battalion) and Alytus (Birute battalion). According to the Lithuanian Minister of National Defense, the acquisition is "one of the most ambitious projects of upgrading the Lithuanian Armed Forces in the recent years, it will help ensuring the security of Lithuania for several decades to come" (Raimundas Karoblis, July 2019). This consolidation of Lithuanian land forces reflects the increased concern over Russia's belligerent behaviour in Eastern Europe, particularly after Moscow's military intervention in Ukraine.
An inevitable dependency on the U.S. market ?
The procurement of 200 American JLTVs was an example of how much the Baltic States, including Lithuania, still depend on the United States market to get military equipment. While the current American presidency tends to isolationism, this can become a significant problem (Andrius Sytas, Gederts Gelzis, Reuters, November 2016 ; David M. Herszenhorn, Politico, November 2018). This dependency can represent an obstacle to European interoperability, an essential element of any European defense. On the other hand, the purchase of German IFVs showed that European Armies could bet on European military firms instead of the American ones. This would increase European cooperation in the defense area and facilitate the establishment of joint training activities with better interoperability between the different armies.
Latvia's attempts to modernize its motorized forces
Meanwhile, Latvia is also enhancing its motorized capacities. The Latvian Ministry of Defense granted in 2018 a $181 million deal for four-wheel drive armoured vehicles to the Finnish company Sisu Auto. However, the contract was invalidated by public procurement watchdog IUB after the complaint of AM General from the United States, and South Africa's Paramount Group. In this context, the Latvian attempt to modernize its motorized capacity led to a new competition with more than ten firms competing for the new contract. Once again, Sisu Auto's offer ranked first its GTP 4×4 vehicle, followed by the bids submitted by AM General, Otokar, and Paramount Group. Besides, this acquisition may be the last one for a while according to Janis Garisons, state secretary for the Ministry of Defense who seems to focus on training and sustainment.
Furthermore, the country is looking to build its industrial base in order to keep the maintenance of the equipment on its soil. Latvia is willing to develop its defence and security sector as we can see with the creation in 2013 of The Federation of Security and Defence Industries of Latvia (FSDI Latvia), which includes universities, research institutes as well as companies specialized in the security and defense area. This development is a chance for more defence cooperation within Europe and new technological, structural and organizational progress in Latvian defence will benefit the other European armies.
Estonia's European approach to develop its defence
Finally, concerning Estonia, the Defence Ministry acquired in 2014 44 infantry combat vehicles from the Netherlands. This $120 million deal, signed at the moment of the crisis in Ukraine and including Swedish-built CV90 infantry combat vehicles as well as six Leopard tanks, represented "the largest procurement project ever" for Estonia's defence forces, according to Estonian Defence Minister (Sven Mikser, December 2014).
The country did not stop strengthening its defense as we can see with the creation, in 2017 of a new military procurement agency centralizing all purchases of weapons and gear and the allowance of $215.6 million per year by 2020 in the defence sector. In this context, Estonia joined Finland in 2017 to acquire 12 South Korean K9 Thunder howitzers made by the firm Hanwha Techwin (Jaroslaw Adamowski, DefenseNews, February 2017).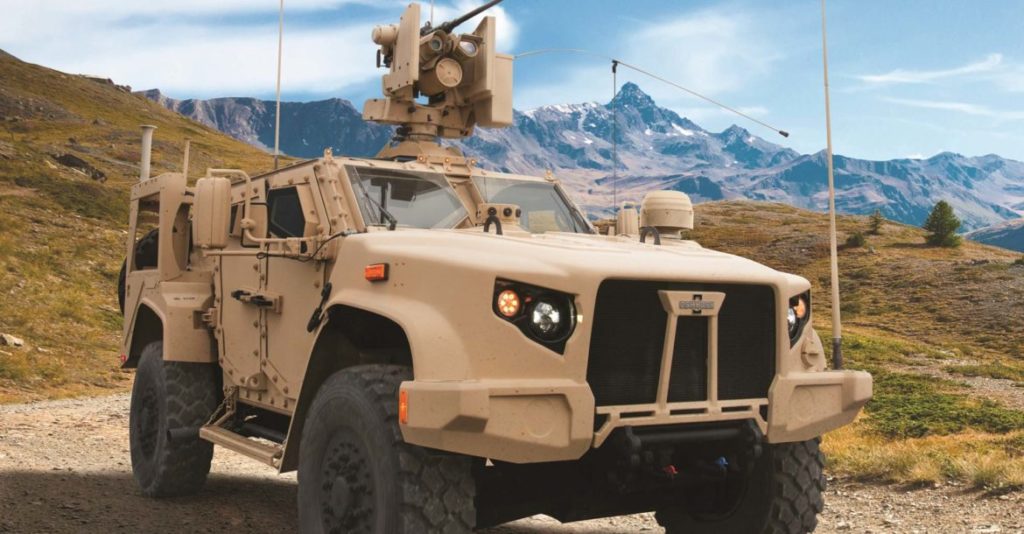 The necessity of a deeper interoperability
One of the remaining questions is how the Baltics will be able to move from a national to a collective (Baltic and European) perspective. These last years, Baltics states not only made efforts to enhance cooperation between their armies but also with other European States and companies. On December 2019, Senior defense officials from Estonia and Latvia signed with Finland a letter of intent to pursue a mutual purchase of new armoured ground vehicles for instance. Both members of the EU and NATO, while sharing a border with Russia, Estonia and Latvia have a common interest in armoured vehicles. Estonian Defence Minister Jüri Luik said on this subject "We agreed to carry out defense-related technical research, and I believe that our cooperation will yield a positive result,". Also, the interoperability between the three Baltic countries will not include only land forces insofar as Estonia, Latvia and Lithuania considered plans to set up an air defence system jointly. However, the remaining work is vast, as Defence and Security Expert Mr. Grant notices that there is still a lack of cooperation between the Baltics, which "all have different main weapon and vehicle systems and thus logistics and maintenance" (Glen Grant, December 2019). In the future, in order to reach deeper interoperability between their motorized units and, more generally their armies, the Baltic countries could use the Franco-Belgian project CaMo as a model.
Since their integration into Euro-Atlantic structures in 2004, the Baltic countries have been eager to further collaboration between them and within Europe and NATO. Their willingness to co-operate has been illustrated with the preparation, since 2014, of a Baltic Battalion, composed of 1,000 troops from Lithuania, Estonia and Latvia and they participated to several joint exercises under NATO command. Considering the overly long time of NATO's reaction, genuine European defence structures are needed. As the former German Minister of Defense said, "Our future as Europeans will at some point be with a European army" (Ursula von der Leyen, March 2015). Furthermore, in order to achieve such a goal, an "enhanced interoperability among European soldiers" is crucial (Stefan Soesanto, RAND research institute in Brussels, March 2015).
Written by Georges Clementz, European Defence Researcher at Finabel – European Army Interoperability Centre
Sources
"2nd motorized brigade to be headquartered in Klaipėda", April 2015 https://lithuaniatribune.com/2nd-motorized-brigade-to-be-headquartered-in-klaipeda/
Airforce Technology. (2020). Stratobus Autonomous Stratospheric Airship, France. [online] Available at: https://www.airforce-technology.com/projects/stratobus/ [Accessed 3 Feb. 2020].
"Baltics keep fingers crossed that Trump won't keep his campaign pledges" Andrius Sytas, Gederts Gelzis, November 2016 https://www.reuters.com/article/usa-election-baltics-idUSL8N1DA597
"Dutch Sell Combat Vehicles To Estonia for €100M", From Agence France-Presse, December 2014 https://www.defensenews.com/global/europe/2014/12/10/dutch-sell-combat-vehicles-to-estonia- for-eur100m/
"Estonia joins Finland in howitzer procurement", Jaroslaw Adamowski, February https://www.defensenews.com/land/2017/02/06/estonia-joins-finland-in-howitzer-procurement/ 2017
"Estonia, Latvia, Finland team up to buy armored troop rides", Sebastian Sprenger, December 2019 https://www.defensenews.com/global/europe/2019/12/18/estonia-latvia-finland-team-up-to-buy- armored-troop-rides/
Euractiv. Divided EU leaders to hammer out budget at February summit. 27. January 2020. https://www.euractiv.com/section/future-eu/news/divided-eu-leaders-to-hammer-out-budget-at-february-summit/ (Accessed January 27, 2020).
"European Union Army Plan Aims to Protect Continent from Russia, ISIS" https://www.nbcnews.com/news/world/could-joint-european-army-protect-nato-russia-isis- n322841
"Federation of Security and Defence Industries of Latvia" https://www.dsei.co.uk/exhibitors/federation-of-security-and-defence-industries-of-latvia
Flanagan, Stephen J., Jan Osburg, Anika Binnendijk, Marta Kepe, and Andrew Radin, Deterring Russian Aggression in the Baltic States Through Resilience and Resistance. Santa Monica, CA: RAND Corporation, 2019. https://www.rand.org/pubs/research_reports/RR2779.html.
"Handover of the first Vilkas Infantry Fighting Vehicle to the Lithuanian Armed Forces", July 2019 « http://www.occar.int/handover-first-lithuanian-vilkas
"How A $125 Million Baltic Guerrilla Force Could Stop Russia: Report", Michael Peck, April 2019 https://nationalinterest.org/blog/buzz/how-125-million-baltic-guerrilla-force-could-stop-russia- report-55077
"How to Create a Baltic Bulwark Against Russia", John Dale Grover, April 2019 https://nationalinterest.org/feature/how-create-baltic-bulwark-against-russia-50722
"How to Defend the Baltic States", R. D. Hooker, Jr., October 2019 https://jamestown.org/wp- content/uploads/2019/10/How-to-Defend-the-Baltic-States-full-web4.pdf?x52813
"Interoperability of the Baltic States against Russia", Glen Grant, December 2019 https://sites.utu.fi/bre/interoperability-of-the-baltic-states-against-russia/
"Latvia halts $206 million armored vehicle contract amid controversy", Jaroslaw Adamowski, January 2019 https://www.defensenews.com/land/2019/01/22/latvia-halts-206-million-armored-vehicle- contract-amid-controversy/
"Latvia relaunches ground vehicle competition following industry complaints", Aaron Mehta, October 2019 https://www.defensenews.com/2019/10/02/latvia-relaunch-ground-vehicle-competition-following- industry-complaints/
"Lithuanian Land Forces has created the new Motorized Infantry Brigade Iron Wolf", January 2016 https://www.armyrecognition.com/armies_in_the_world_analysis_focus/lithuanian_land_forces_ha s_created_the_new_motorized_infantry_brigade_iron_wolf_11201151.html
"Lithuania approaches the Pentagon over buying Oshkosh tactical vehicles", Jaroslaw Adamowski November 2017 https://www.defensenews.com/global/europe/2017/11/08/lithuania- approaches-the-pentagon-over-buying-oshkosh-tactical-vehicles/
"Lithuania to purchase 200 Oshkosh Joint Light Tactical Vehicles", August 2019 https://thedefensepost.com/2019/08/28/lithuania-200-oshkosh-joint-light-tactical-vehicles/
"Lithuania's new chief of defense hopes to step up IFV, artillery system procurement – BNS INTERVIEW", July 2019 https://www.baltictimes.com/lithuania_s_new_chief_of_defense_hopes_to_step_up_ifv__arti llery_system_procurement_-_bns_interview/
"Lithuania's Joint Light Tactical Vehicle buy clears State Dept. hurdle", Jen Judson, August 2019 https://www.defensenews.com/land/2019/08/27/lithuanias-joint-light-tactical-vehicle-buy-clears- state-dept-hurdle/
"Macron wants Europe to buy its own military hardware", David M. Herszenhorn, November 2018 https://www.politico.eu/article/macron-wants-europe-to-build-its-own-military-hardware/
"Reinforcing Deterrence on NATO's Eastern Flank" https://www.rand.org/pubs/research_reports/RR1253.html
"This Is What a NATO vs. Russia War over the Baltics Would Look Like", Dave Majumdar, October 2017 https://nationalinterest.org/blog/the-buzz/what-nato-vs-russia-war-over-the-baltics-would- look-22885
"The New NATO-Russia Military Balance: Implications for European Security", March 2013 https://carnegieendowment.org/2017/03/13/new-nato-russia-military-balance-implications- for-european-security-pub-68222
"Unconventional 'resistance' cells urged for Baltic defense: study", April 2015 https://www.thenews.com.pk/latest/458373-unconventional-resistance-cells-urged-for-baltic- defense-study