A landmine is defined by the Ottawa Treaty as a "munition designed to be placed under, on or near the ground or other surface area and to be exploded by the presence, proximity or contact of a person or vehicle." Landmines in their modern form began to appear during the era of the Crimean War and American Civil War, and their use expanded over time. Mines are considered an effective tool to deny opposing forces the use of certain areas, but mines are also crude, and once lain, they are often forgotten. This has led to the situation where mines continue to inflict casualties to innocent bystanders long after the conflict has ceased. In fact, "approximately 80% of land mine casualties are civilian, with children as the most affected age group. Most killings occur in times of peace" ("Demining". United Nations, 2017). This is why countries have set out to develop the so called 'Smart Mine'.
Military leaders and arms corporations are looking to create a smart mine that can be rapidly deployed and recovered, monitored and controlled by commanders through satellite link, and thus safe for civilians to reuse the land after the conflict has passed. The United States Army, for instance, has invested over $100 Million into the Gator Landmine Replacement Program. This system aims to develop a system which "when an adversary walks through a networked munitions field, the systems sensor and communications capability will relay back to the Soldier that something is near the munition. A soldier will then determine if it is friend or foe, and can choose to either detonate or not detonate an anti-personnel munition" (Popular Mechanics). A system matching these requirements is the Spider System, which will have 360-degree coverage, a 2-300km communications capacity, an ability to be switched on and off, remotely modified self-destruct or deactivate mechanisms, and self-report status so that users will know if they've been tampered with or if a mine went off.
Aside from the US, other military powers like Russia have started to develop new smart mines projects, in order to stay in the innovation race. At the end of 2015, the Russian Armed Forces finalized the field test of their new Medalyon POM-3 system. This new anti-personnel landmine is composed of a nano electronic brain, designed with a Russian-designed microchip, and described by the Scientific Research Institute of Engineering's director, Igor Smirnov, as 'impossible to crack'. When activated, the Medalyon POM-3 has been designed to shoot metal fragments in a 360-degree arc. The electronic brain offers the possibility to remotely activate the mine's self-destruction, rule out misfires as well as unauthorized handling. The AI system is indeed said to be able to make a distinction between soldiers and civilians, by turning itself off when an unarmed person approaches, therefore getting closer to an Ottawa-friendly system.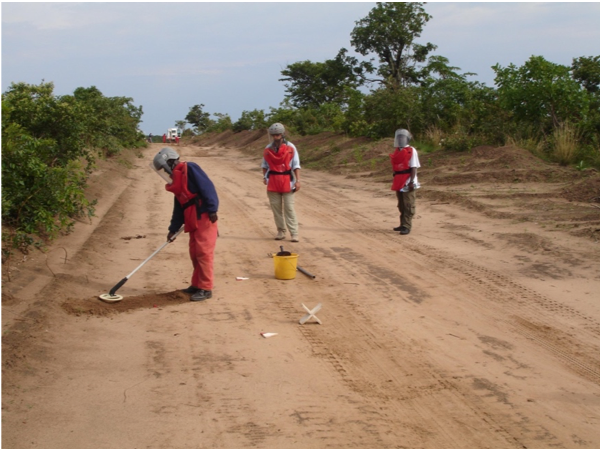 The 1997 Ottawa Anti-Personnel Mines Ban Convention, ratified or accepted by 164 countries as of 2019, aims to forbid the production, stockpiling, or use of the anti-personnel mines, and urges the destruction of stockpiled mines as well as the clearance of the ones already placed in conflict zones. Signed and ratified by almost every country on the European continent, the Convention is driven by a humanitarian objective, and aims to end the suffering of the civilian population, who are the most affected by the triggering of these hidden systems, indiscriminately placed in conflict areas.
The international customary law indeed generally forbids the use of any kind of indiscriminate weapons, that is to say weapons which are not able to make the distinction between military objectives and civilians. However, regarding the high number of victims caused by anti-personnel mines across the world, the need for a binding international instrument was increasing. Most of the key producers of anti-personnel mines, the United States, Russia, Pakistan, and China, among others, still haven't signed the text, therefore hindering the effectiveness and scope of the convention. As of 2019, at least 61 countries or areas are known to still have landmines on their territories.
Although countries like the US and Russia are attempting to create mines that comply with the Ottawa Convention, and complete the transition to a smart mine system, so far conventional mines are still the most stockpiled, and it will take a long time before smart mines fully replace dumb mines.
Written by Michael Belafi and Solène Baudouin-Naneix, European Defence Researchers at Finabel – European Army Interoperability Centre.