25 February 2020
Being at the cutting edge of military armaments has always been one of the core issues of most states, especially since the annexation of Crimea by Russia in 2014 and its military modernisation plans implemented both in 2017 and 2018. These last years have also seen an isolationist tendency from the US with respect to NATO, thereby reviving the discussions concerning a more autonomous European defence structure. In response to these shifting dynamics, some countries have decided to upgrade their military capabilities; it is, for instance, the case with the French Scorpion Program, a $6 billion military modernisation plan aiming at upgrading its motorised capacity.
It has been a few years now that France has been considering upgrading its motorised and military capabilities. An inter-ministerial commission approved the start of the Scorpion research and development phase in 2010, and subsequently in 2014, French Defence Minister Jean-Yves le Drian announced Phase 1 of the Scorpion program, in line with commitments made in the 2014-2019 defence budget planning law known as "LPM" (Loi de Programmation Militaire). Finally, in 2016, the French government pledged $6.7 billion over 11 years for the Army Scorpion modernisation program (Defense Industry Daily, 2019).
The Scorpion Program has been deemed as the most ambitious military program in the recent history of French land forces. It consists of a $6.8 billion multi-company modernisation effort aimed at replacing all French frontline fighting vehicles, with improved platforms linked with a new and unified communications and battlefield management system (BMS). This BMS is underpinned by the concept of "collaborative combat," which seeks to connect squads, vehicles, battle groups and brigades in a single network (Defense News, 2016). Overall, the Scorpion Program mostly intends to upgrade a set of ageing land vehicles and systems, while preserving France's industrial base. This program appears to be essential for France, as it will permit the country to modernise its joint tactical battalions (or Groupement tactique interarmes, GTIA), which already allow the Army to coordinate the actions and the expertise of each branch of the land forces, under the single command of a central regiment (French Ministry of the Armed Forces, 2018). These battalions are then able to conduct coordinated actions in order to reach tactical goals assigned during a military intervention. These GTIA have notably proven their efficiency during the French intervention in Afghanistan in 2001, due to their strong organisational flexibility.
Incorporated into the land forces modernisation plan of 2020, the Scorpion program aims at renewing, from 2018 onwards, the median contact battle capabilities of two platforms, namely the Multi-role armoured vehicles and Armored Reconnaissance and Combat vehicle, (in French VBMR and EBRC) and the unique combat information system known as "SCORPION" (SICS). The latest permits the creation of a network of the different systems producing a tactical military effect on the field. The program also includes the upgrade of the Leclerc tank and crew training with onboard 3D simulation (Defense News; 2016). This training will rely on Semba, an embedded simulation program, that will allow crews to go through "operational training" in the vehicle, on the field and at the base. As a whole, the targets of the program are (French Ministry of Armored Forces; 2018):
1,872 Griffon VBMR APC,
978 SERVAL vehicles,
300 new JAGUAR-type armoured vehicles,
200 upgraded Leclerc MBT
625 new VBCI IFV
2,038 new Serval VBMR-L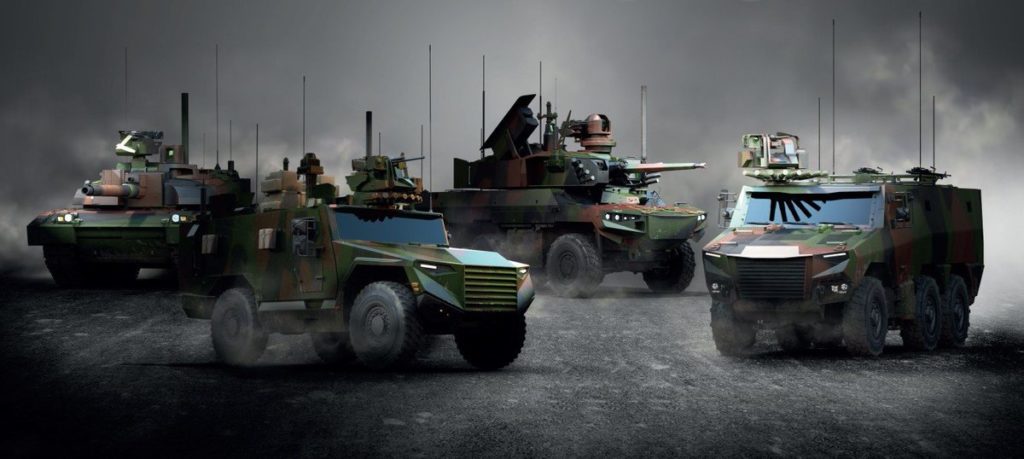 This upgrade will be carried out by an exclusively French industrial consortium, which emphasises France's desire to foster its own industrial and defence base. For example, the VBMR-L (light multi-role armoured vehicle) will be produced by a consortium that includes Nexter, Thales, and Renault Trucks Defence (Defense Industry Daily, 2019). The first batch of VBMR-L vehicles funded by the current order covers the development, production, and induction of 689 vehicles by 2025. Other critical elements in this program include the Griffon multirole troop carrier and the Jaguar combat vehicle. Indeed, the French government has placed orders for two types of newly designed armoured vehicle platforms. Thales, Nexter, and Renault Trucks Defence will deliver over 300 models of the Griffon, a 6×6 multi-role personnel carrier, and the 6×6 Jaguar, which is armed with a 40mm gun and anti-tank missiles.
Beyond that, the Scorpion Program could be perceived as an essential tool to enhance interoperability between different European armies. Indeed, it can be seen as a role-model, as other European countries are keen on implementing it. For example, in 2017, the Belgian Minister of Defence, Steven Vandeput, and his French counterpart, Florence Parly, signed a declaration of intent concerning the cooperation between the two countries in the field of land mobility. To do so, Belgium will buy 60 new Jaguar-type battle vehicles for 1.6 billion euros, and 382 light battle vehicles belonging to the Griffon type (Challenges; 2019). The country is also willing to cooperate in the area of support (i.e. training, logistics support and maintenance), with common upgrades, suggesting that Belgium is willing to share the same doctrine as France in land mobility.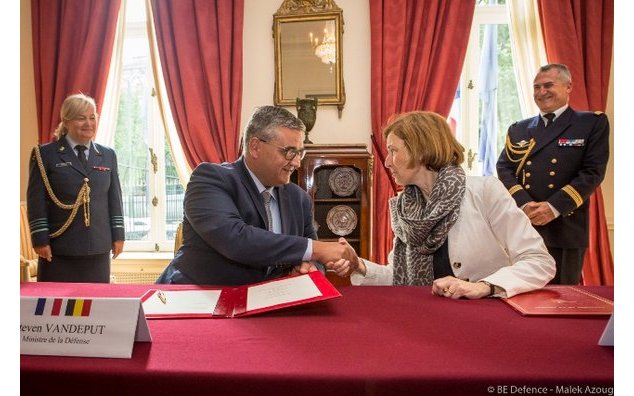 This bilateral cooperation reflects a possible path towards a stronger European defence and interoperability. For instance, by adhering to the Scorpion Program, Belgium also endorses the GTIA concept, thus showing the deep strategic and operational proximity existing between the two countries. Moreover, it allows the Belgian and French industries to work together in order to reinforce the European defence and industrial capabilities. For Steven Vandeput (previous Belgian Minister of defence) , this cooperation is "a beautiful example of a European defence building itself from bottom-up cooperation" (La Tribune, 2017).
However, some issues could still be raised regarding the Scorpion Program. First, despite the deepening cooperation between France and Belgium, the latest is still willing to sign with US partners in the field of aviation, as the biggest firms on the market are still mostly American ( F-35 by Lockheed Martin, F-18 by Boeing, etc.). This shows that the European defence industry is still lagging in some fields compared to its Atlantic counterparts, which could be a barrier to further European interoperability. After all, the French consortium including Nexter, Thales and Renault Trucks Defence also reflects the inward nature of European defence developments. Moreover, on a national scale, the Scorpion Program is deemed to be "ambitious in terms of timetable," according to Jean-Marc Duquesne, the managing director at Groupement des Industries de Défense et de Sécurité Terrestres et Aéroterrestres (Gicat). The expected turnaround from prototype to delivery in 4 to 6 years is tight and will put pressure on contractors, though they started some early conceptual work in 2010 (Defense News, 2016). Moreover, as the budget of €6 billion is expected to cover 20 years to 2033, "the challenge today is really to secure funding for the program under the present and next multi-year budget law" (Jean-Marc Duquesne, 2016 ).
Consequently, the Scorpion program could trigger a wave of military modernisation within Europe, as it has already appeared as a role model for some European countries. However, given the significant investment it implies, and the sovereign protection of defence industries, bilateral cooperation still seems like the best way towards greater interoperability. 
Written by Audrey Quintin, European Defence Researcher at Finabel – European Army Interoperability Centre
Sources
Berger Olivier, « La France toujours en quête de nouvelles idées pour coopérer », Les Champs de Mars, October 9 2019, N° 32, no 1, pp. 149‑156.
« Blindés: partenariat France / Belgique », Le Figaro.fr. June 29, 2017. URL : https://www.lefigaro.fr/flash-eco/2017/06/29/97002-20170629FILWWW00126-blindes-partenariat-france-belgique.php
« Défense: la France va vendre 442 blindés à la Belgique », Challenges. July 16, 2019. URL : https://www.challenges.fr/entreprise/defense/le-contrat-pour-fournir-442-blindes-a-la-belgique-conclu-avec-les-industriels_664462.
« France Finally Kickstarts Scorpion Land Vehicle Acquisition », Defense Industry Daily. September 25, 2019. URL : https://www.defenseindustrydaily.com/france-scorpion-land-vehicles-028975/.
« Key French Army Modernization Program Scrambles for Funding », DefenseNews. June 12, 2016. URL : https://www.defensenews.com/digital-show-dailies/eurosatory/2016/06/12/key-french-army-modernization-program-scrambles-for-funding/.
« Le programme Scorpion », Ministry of the French Armed Forces. October 24, 2017. URL : https://www.defense.gouv.fr/dga/equipement/terrestre/le-programme-scorpion.
« Presentation Brochure of the SCORPION Program », Ministry of the French Armed Forces. URL: http://www.defense.gouv.fr/content/download/328171/4523035/file/plaquette%20de%20pre%CC%81sentation%20SCORPION2.pdf
« Scorpion : la France et la Belgique en ordre de marche », La Tribune. June 29, 2017. URL : https://www.latribune.fr/entreprises-finance/industrie/aeronautique-defense/scorpion-la-france-et-la-belgique-en-ordre-de-marche-742201.html.
« Scorpion : la France obtient un contrat de 1,1 milliard d'euros en Belgique , La Tribune. June 22, 2017. URL: https://www.latribune.fr/entreprises-finance/industrie/aeronautique-defense/scorpion-la-france-obtient-un-contrat-de-1-1-milliard-d-euros-en-belgique-741348.html.
Tran Pierre, « A French military modernization program is getting a makeover », Defense News. June 8, 2018. URL : https://www.defensenews.com/digital-show-dailies/eurosatory/2018/06/08/a-french-military-modernization-program-is-getting-a-makeover/.