12 February 2020
On February 8th, 2020, Spain announced that it would be keen on joining the PESCO Corvette Project, alongside with France, Italy and Greece. The Patrol Corvette's goal is to design and develop a prototype for a new class of military ship, named "European Patrol Corvette" (EPC). The EPC hosts several systems and payloads in order to accomplish a large number of tasks and missions with a modular and flexible approach. This program was introduced into the Permanent Structured Cooperation (PESCO) in 2018 when the European Council launched 13 new collaborative projects under the framework. This latest batch of projects brings the total number through PESCO up to 47. These projects answer to a list of recommended pan-European defence programs aimed at providing participating Member States with "options on how to plan and bridge capability gaps in a collaborative manner" (Defense News; 2020).PESCO is an attempt within the EU to develop means for standardisation of training, development, and information flows, through synchronisation of capabilities requirements and goals and harmonisation of investment in research and technology. Thus, it ideally aims to create a greater Europeanization of capabilities and stimulate supply chain cultivation to achieve greater European strategic autonomy.
The EPC project is a cornerstone of the new naval joint venture between Italy's Fincantieri and France's Naval Group, which was launched last year under the name "Naviris" (Defence News; 2019). This undertaking is part of the Poseidon plan, which aims to forge closer links between French and Italian maritime industries, particularly between the Naval Group and Fincantieri. For instance, France and Italy signed an agreement on June 14th, 2019, to create a joint venture in which capital would be held equally by both sides. This partnership represents "a step forward to the strengthening of cooperation in the naval defence sector, to create a more efficient and competitive European shipbuilding industry" (Le Marin; 2019).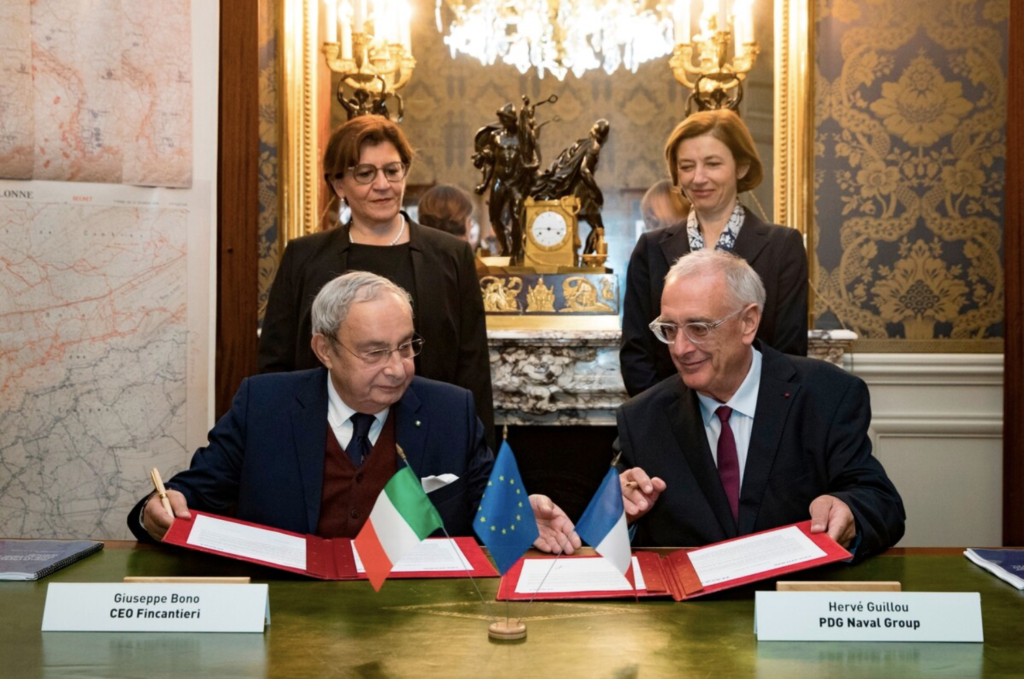 The two firms are hoping to match Italian and French navy requirements with a jointly built, modular vessel that can handle patrol and surveillance missions as well as taking second-tier roles in anti-submarine and anti-surface missions. With Greece and Spain's recent decision to participate in the project, France and Italy could then request to gain get access to EU funding. Indeed, the European Defence Fund sets aside €4.1 billion for research and €8.9 billion for developing military capabilities. However only collaborative projects involving at least three member states or associated countries can receive funding. Naviris expects the EU Commission to issue a Request for Proposal for projects this year, which would be submitted by industry participants in 2021 and decisions regarding funding made in the same year. As a consequence, access to EU funding could incentivize other European navies looking to upgrade their naval capabilities to jump on the bandwagon, thereby enlarging the scope of Corvette Program.
Apart from that, the corvette remains an essential requirement for Italy and France. Rome needs to replace Cassiopea- and Minerva-class vessels that are currently phasing out, as well as ageing Commandante-class vessels (eight corvettes in total). France, on its part, is looking to substitute six of its Floréal-class vessels (Defense News; 2019). Meanwhile, Spain's decision to join the EPC project is consistent with its ambition to build five F-110 frigates. Indeed, in December 2018, the Spanish Government's Cabinet approved the final draft of a contract to procure five F-110 frigates for the Spanish Navy, which is critical in protecting Spain's public shipyards. The frigates are budgeted for 4,326 million euros, and the procurement process is expected to generate employment for 7,000 workers over the next ten years (Defense Aerospace; 2018). Their constructions will be overseen by the state-owned group, Navantia, which is the same group that recently announced Spain's desire to be part of the Corvette Project. The emergence of a new European consortium, therefore, raises speculations that new partners such as Germany could join the project shortly.
Written by Audrey Quintin and Abel Duclos, European Defence Researchers at Finabel – European Army Interoperability Centre
Sources
Kington Tom, « Spain seen joining Greece, France, Italy on European Patrol Corvette program », Defense News, February 7 2020. URL :  https://www.defensenews.com/global/europe/2020/02/07/spain-seen-joining-greece-france-italy-on-european-patrol-corvette-program/.
« Un projet de corvettes franco-italiennes pour remplacer les Floréal et Commandanti », Mer et Marine, May 23 2019. URL :  https://www.meretmarine.com/fr/content/un-projet-de-corvettes-franco-italiennes-pour-remplacer-les-floreal-et-commandanti.
« Spain approves €7.3 billion in defense spending programs », The Defense Post, December 14 2018. URL :  https://thedefensepost.com/2018/12/14/spain-defense-spending-7-billion/.
« EU launches 13 new PESCO defense cooperation projects », The Defense Post, November 12 2019. URL :  https://thedefensepost.com/2019/11/12/new-pesco-projects-eu-defense-cooperation/.
« Fincantieri et Naval group signent leur accord de joint-venture », Le Marin, June 14 2019. URL :  https://lemarin.ouest-france.fr/secteurs-activites/chantiers-navals/34441-fincanctieri-et-naval-group-signe-leur-accord-de-joint.
« Naval Group et Fincantieri se pacsent enfin », La Tribune, June 15 2019. URL :  https://www.latribune.fr/entreprises-finance/industrie/aeronautique-defense/naval-group-et-fincantieri-se-pacsent-enfin-820564.html.