22 April 2020
After some vicissitude, it was announced in April 2020 that the US Defence firm Lockheed Martin signed a deal worth $512 millions with the Republic of Bulgaria for the procurement of eight F-16 to the Bulgarian Air Force (Smaldore, 2020). The President of Bulgaria, Rumen Radev, had previously vetoed a contract for the purchase of eight F-16 in 2019. That acquisition was worth $1.26 billion at that time, though, much more than the new deal with Lockheed Martin (Reuters, 2019). It is good news for the Bulgarian budget that the price tag has decreased, especially with the upcoming economic crisis following the COVID-19 outbreak and the related containment measures.
Although it does not support European defence industries as much as a Dassault Rafale or Eurofighter Typhoon, the procurement of American F-16 from Bulgaria is great news for European air force interoperability regarding training and combat since there are more than 700 F-16 flying in Europe. Indeed, Belgium, Denmark, Greece, Netherlands, Norway, Poland, Portugal, Romania and Turkey all operate F-16 in their military air branch. The acquisition of F-16 is hence giving Bulgaria an interoperable single-engine jet fighter with many other EU and NATO Members. According to Lockheed Martin, the acquisition of F-16 is a "low-risk solution for Bulgaria's and NATO defence needs" (Keller, 2020).
Originally built by General Dynamics, the F-16 entered into service for the first time in 1978. However, Bulgaria is not purchasing the original F-16, but the F-16 Block 70 variant, meaning the latest and most upgraded variant of the jet fighter. The fourth-generation F-16 Block 70 fighter features technologies developed for the advanced fifth-generation F-35 Lightning II and F-22 Raptor jet fighters. This includes state-of-the-art technology such as an active electronically scanned array (AESA) radar that we usually find on a fifth-generation fighter (like the Sukhoi Su-57) or 4+ generation fighter (like the Mikoyan MiG-35). The benefits of the AESA radar include a better resistance to jamming as well as the capacity to detect smaller targets and at a longer ranger. This type of radar is also less likely to be detected or to experience a system failure (RADA, 2019).
According to Lockheed Martin, the plane has "advanced data link, targeting pod, weapons, GPS navigation, and automatic ground collision avoidance system" (Keller, ibid). The F-16 Block 70 also has a modest design change, a new cockpit, and an upgraded mission computer and architecture.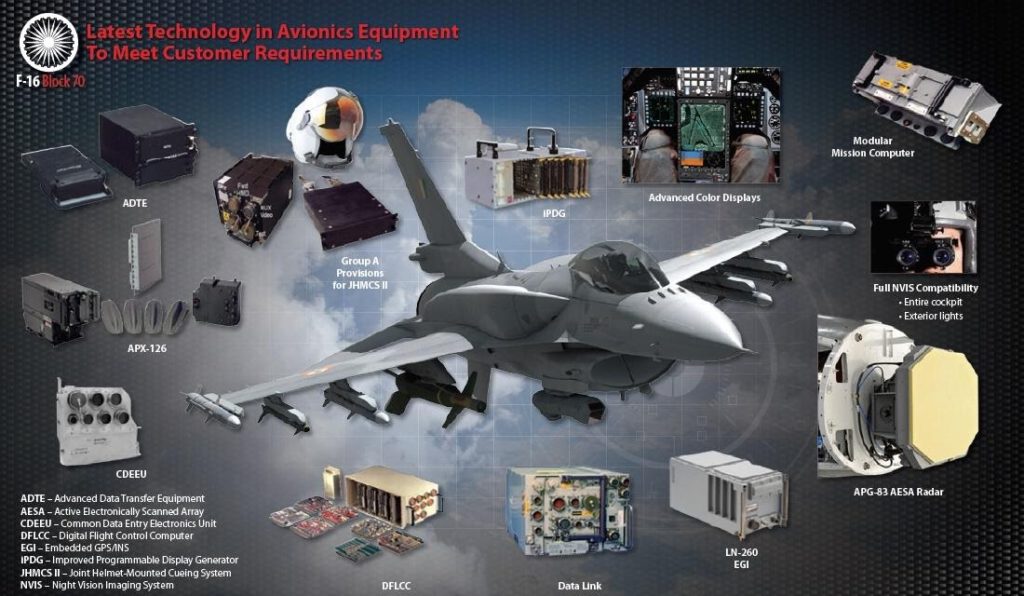 This new Block 70 variant is dubbed the "Viper" and first flew in 2015. The F-16 Viper is intended to better operate with fifth-generation fighters. The Bulgarian F-16 Viper could henceforth, in theory, operate efficiently with EU/NATO F-35 fighters, and perhaps with the future Next Generation Fighter of France, Spain and Germany or the BAE Tempest of the United Kingdom, Norway and Italy. This is also good news for air-power interoperability in Europe.
The F-16 Viper package for Bulgaria includes training for pilots and ground crew, logistics, support equipment and weapons. The construction of this newest and most advanced F-16 configuration should start soon at the Lockheed Martin plant in Fort Worth, Texas. The eight Bulgarian F-16 Viper should be completed by 2027. Meanwhile, in the US, the Block 70 upgrade of 144 of its F-16 aircraft fleet started in January 2017 and is expected to be completed by 2023.

---
Written by Robin Vanholme Defence Researcher at Finabel – European Army Interoperability Centre
Sources
Smaldore, Y., "Lockheed Martin débute la production des nouveaux F-16V Viper bulgares pour 512 m$", Méta-Defence, April 6 2020, https://www.meta-defense.fr/2020/04/06/lockheed-martin-debute-la-production-des-nouveaux-f-16v-viper-bulgares-pour-512-m/
Keller, J., "Lockheed Martin to build eight F-16 Block 70 jet fighters and avionics for Bulgaria in $512 million deal", Military & Aerospace Electronics, April 8, 2020, https://www.militaryaerospace.com/sensors/article/14173595/avionics-f16-jet-fighters.
RADA, "The Advantages and Disadvantages of PESA Radar vs. AESA Radar", December 13, 2019, https://radausa.com/blog/pesa-radar-vs-aesa-radar.
Reuters, "Bulgaria president vetoes $1.26 billion deal for F-16 fighter jets"July 23, 2019, https://www.reuters.com/article/us-bulgaria-defence/bulgaria-president-vetoes-1-26-billion-deal-for-f-16-fighter-jets-idUSKCN1UI1ZJ.