Lithuania and Poland have had a long, and at times troubled, history. Since the complete independence of both countries between 1989 and 1991, the two nations have once again grown to become close allies and partners within NATO. Military integration between the two nations continues to grow, due not only to historical precedence, but also because of their modern geographic vulnerabilities.
What is the Suwalki Gap & Why is it Strategic?
The Suwalki Gap has long been seen by Lithuania, Poland, and by NATO leaders, as a highly vulnerable area in NATO's collective defence. The Suwalki Gap is a 100km long border area between Lithuania and Poland, which is wedged in between Belarus, and the highly militarized Russian exclave of Kaliningrad.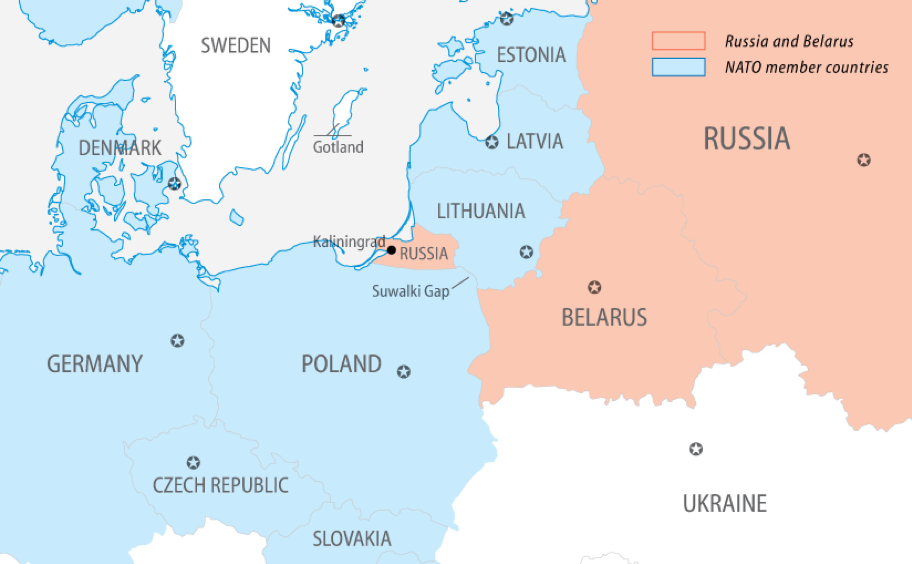 The Suwalki Gap – Picture from FPRI
Kaliningrad Oblast hosts at least 15,000 Russian soldiers and sailors, the only Russian port on the Baltic sea that does not freeze over in the winter, and nearly one million Russian citizens. Kaliningrad has been separated from Russia since the fall of the Soviet Union, and some believe that Russia may have revanchist ambitions to be physically connected to this territory once again. It is for this reason that many strategic experts have expressed the vulnerability of the sparsely populated and narrow Suwalki Gap area to a rapid invasion that would allow Russia to link their important exclave to Belarus, which Russia has very close relations with, and therefore de facto to Russia itself.

If Russia were to exploit the Suwalki Gap, not only would they be able to create a de-facto land bridge between their strategic exclave of Kaliningrad and Russia proper, through friendly Belarus, but it would also physically cut the three Baltic states off from their only land routes to the rest of their European Union and NATO partners. This could cause a terminal issue for legitimacy of NATO and the European Union if not prevented. This issue is therefore just as much a European and NATO problem as it is a strictly Lithuanian-Polish one.
Lithuanian-Polish Cooperation
Poland Joined NATO in 1999 and became one of the main voices for Lithuanian accession to the organization, which was achieved in 2004. Defence cooperation between the two nations began in 1994, when the respective Ministries of National Defence signed mutual cooperation agreements. These military agreements were further upgraded in 1997 and 2001.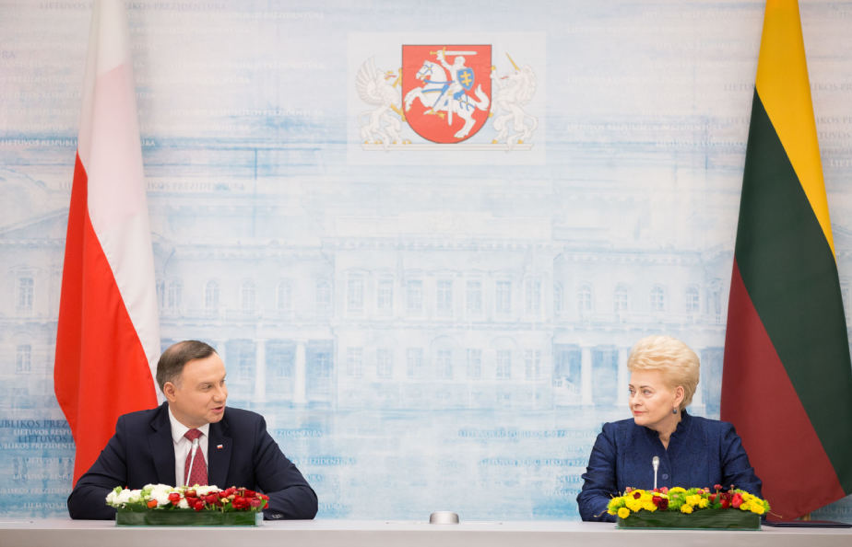 Polish President Andrzej Duda and Lithuanian President Dalia Grybauskaite – Photo by Žygimanto Gedvilos via 15min nuotr.
The most visible aspect of their military cooperation came in the form of LITPOLBAT, which was a combined Lithuanian-Polish army battalion that was deployed in various peacekeeping missions throughout the 1997-2007 period. LITPOLBAT was disbanded in 2007 but was a leading inspiration for the creation of the currently operating Lithuanian-Polish-Ukrainian Brigade (LITPOLUKRBRIG). Headquartered in the historically important and geographically central city of Lublin, the brigade now plays a similar, and even upgraded role, to its predecessor.
The airspace of the three Baltic nations are collectively patrolled by NATO air forces on a rotating basis, and this is an area where Lithuania and Poland look to increase their cooperation as well. In 2018, Major Neimontas, spokesman for the Lithuanian Chief of Defense, after a meeting with the Polish Chief of Staff, stated that "in the context of air defense, the commanders will discuss possibilities for integrating Lithuanian and Polish airspace surveillance and air defense systems, as well as possibilities for organizing international exercises in the region in the future to improve the interoperability of… NATO allies, in air defense." In 2019, Polish Army Chief, Rajmund Andrzejczek, stated in Vilnius that Poland's new missile defense system, could cover Lithuania as well.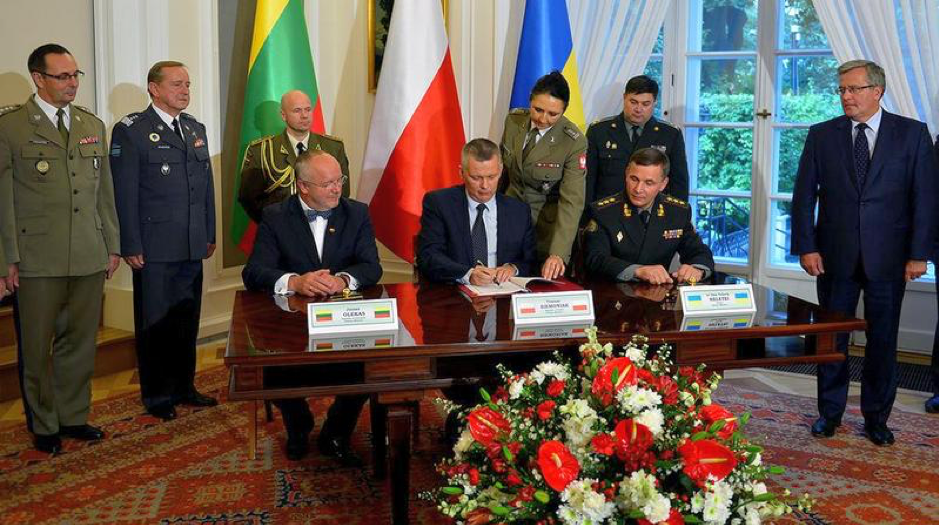 The signing of the LITPOLUKRBRIG by respective Defence Ministers – http://litpolukrbrig.wp.mil.pl
In February of 2019 the Lithuanian and Polish Presidents met in Warsaw for a two-day meeting where Polish President Andrzej Duda stated that "Polish-Lithuanian military cooperation is deepening within NATO," after the two Presidents signed a memorandum for closer military cooperation. The newest development in this deepening of military cooperation is the recent agreement to integrate Lithuania's Iron Wolf brigade with Poland's 15th brigade and headquarter the new joint unit in the Suwalki Gap region. The new brigade will not only strengthen Lithuanian-Polish military interoperability, but also deter any foreign actions from taking place in this strategic area and send a clear message that Lithuania and Poland are steadfast in their common defence.
They Don't Stand Alone
Although it is the Lithuanians and the Poles who are currently taking the most action to mitigate the potential problem in the Suwalki Gap, they are not the only ones. In recent years, NATO battle groups have been deployed to the Baltic states and Poland to bolster the defences of the area and deter any foreign incursions or Crimean style actions from taking place. These battle groups not only help secure this vulnerable region, but also allow NATO nations to practically train and increase interoperability and capabilities with their allies.
There has also been a general build-up of readiness in the region. "We are committed to the sovereignty of Lithuania, the sovereignty of Poland and all the other countries, so we will do whatever it takes to reestablish that," said American Lieutenant General Ben Hodges in 2015. Recently, the United States has confirmed plans to build a USD $260 million site to store vast amounts of equipment to be used if American forces need to be rapidly deployed to the region. Aside from logistics hubs, the Polish government has been actively seeking US troops to be based in Poland on a permanent basis, even stating they would pay for the initial cost of the base building.
These latest developments show that although many nations in central-eastern Europe want the United States to play a vital role in their defence, they are not wholly dependant on the US. On the contrary, the Lithuanian-Polish partnership with Ukrainian forces provides integrated and harmonized military formations that cover the most strategically vital areas of central-eastern Europe, spanning the Baltic to the Black Sea. And although much more integration is needed, Lithuania and Poland are leading examples on the continent when it comes to military cooperation and interoperability.
Written by Michael Belafi on behalf of the Finabel Permanent Secretariat