The United States Army will allow up to 30 million dollars for the research and development of the Next Generation Squad Weapons (NGSW) system, based on the $126 million budget from the 2020 National Defense Authorisation Act for infantry support weapons. The NGSW is aiming to improve unit efficiency on the battlefield with two weapons: the NGSW-Rifle (NGSW-R) and the NGSW-Automatic Rifle (NGSW-AR). The modernisation process is part of the strategy set up by the Army Future Command (AFC), which focuses on improving the infantry. The main purposes are to increase range performance, Squad Fire Control (SFC), weapon ergonomics… Those aspects will be brought by the usage of Artificial Intelligence and electronic devices mounted on the weapon itself. The first units should be equipped with those new systems by 2022 and 2023.
The future NGSW-R is going to replace the M4/M4A1, while NGSW-AR will be substituted to the M249 SAW. In order to improve fire control for its users, the two incoming versions will have a variety of specificities. Innovative features will take into account as much data as possible related to shooting accuracy. For instance, to calculate the ballistic, an aiming point will consider the target and analyse its range, atmospheric conditions as well as the ammunition used based on a wireless communication system. A wired port will make available software updates and ease data transmission. The integration of electronic systems in the weapon will not affect its usage, because turning on these features will take no more than 1 second, and will be run on AA, CR123 or CR2032 batteries.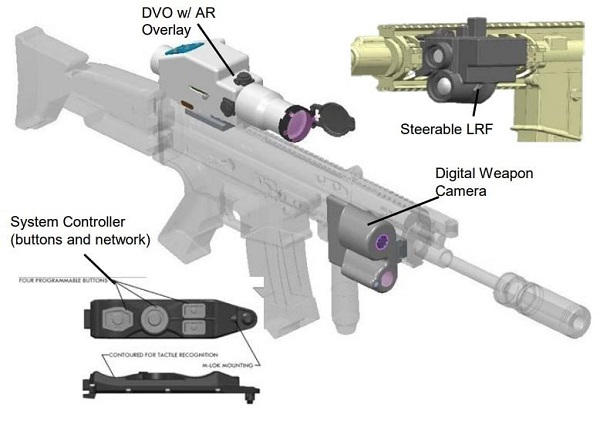 Higher-level performance might be required by the army in the future. Those possible features may, therefore, involve broader data and specificities to increase the efficiency of close-quarter units. Those possible upgrades may include, as a non-exhaustive proposition, advanced camera-based capabilities such as automatic target recognition, target tracking and facial recognition.
This may allow its users to have faster reactions on the battlefield. Mounted cameras might, for instance, provide automatic target recognition, face recognition and/or target tracking. Next-generation weapons may also include local wind data, to create a direct compensation for the shooter. To keep the weapon functional on all types of battlefield, lenses have to be adaptable to the changing environments. This means high resistance to any realities of the battlefield (abrasions, water, dust, cold, etc.), as well as easy to clean.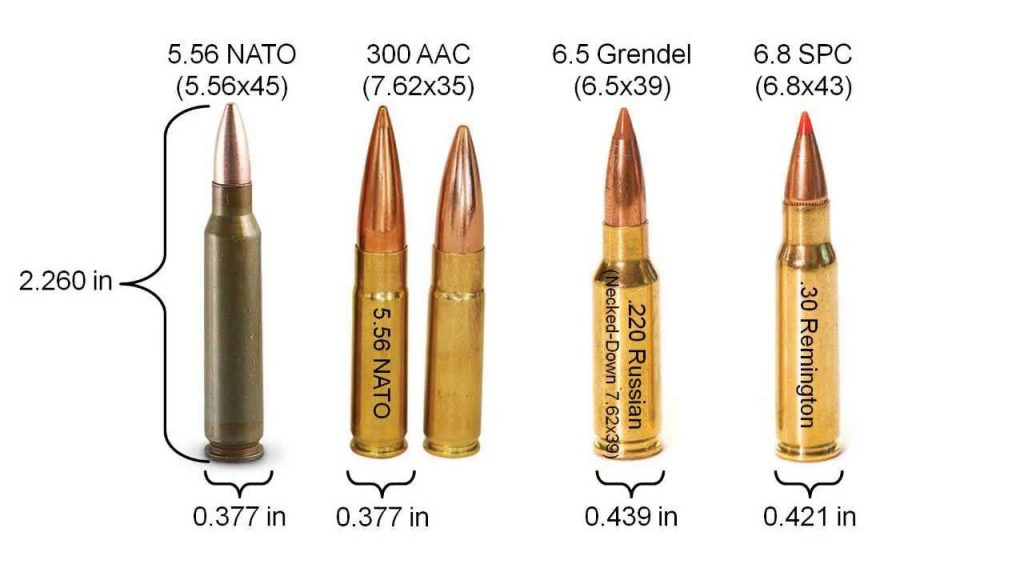 The firepower was also an important requirement for the US Army. With the use of specially designed ammunition, namely the XM1186, the penetration of the NGSW weapons will be efficient for the coming 25 years. Those 6.8 mm government-designed projectiles will be able to penetrate any modern body armour. The cartridge will be supported by both versions of the weapon and will be integrated by the private-sector. However, the use of such a high calibre is in contradiction with NATO's standard 5.56 mm calibre. If they decide not to follow the same ammunition standards this decision could therefore make interoperability more difficult between NATO members and the USA.
In July 2018, the Army awarded contracts to AAI Corporation/Textron Systems, General Dynamics-OTS Inc., PCP Tactical LLC and Sig Sauer Inc. and FN America LLC in order to develop prototypes of the NGSAR.
A few days later, FN America declared that it was awarded a contract to produce two prototypes for the NGSAR program. One of its submissions will include a lightweight machine gun, while the other will be the FN HAMR, a heat adaptive modular rifle. For this contract, FN chose to partner with Federal Cartrodge Company (FCC) in order to use emerging technologies to increase the lethality of its prototypes.
Textron Systems, announced in March 2019 that it delivered the Next Generation Squad Weapon-Technology (NGSW-T) prototype demonstrator to the US Army Combat Capabilities Development Command (CCDC) Armaments Center and Joint Services Small Arms Program (JSSAP). The automatic rifle prototype, which based on the Cased-Telescoped (CT) Weapons and Ammunition technology, is the first of five weapon demonstrators that Textron Systems will deliver for the program. The next generation of Cased Telescoped Weapons & Ammunition systems offer improved maneuverability and performance at 40 percent less weight than the existing systems. Furthermore, it is able to carry more ammunition while reducing the load, improves short-range engagement times, and provides more first-round hits at long range while increasing accuracy.
The fire control provided by this NGSW Technology is intended to involve an Integrated Visual Augmentation System (IVAS). As far as it has been communicated, this system will take over the previous Head's Up Display 3.0. This technology will have the advantage of reducing soldiers' exposure while maximising the effectiveness of the targeting. Furthermore, according to the Army, it will increase "lethality, mobility, and greater situational awareness … with an improved capability to visualize terrain features, obstacles".
The goggles have been successfully tested on Army Rangers and infantry soldiers, and will be used by an armoured brigade combat team bound for South Korea in October. It will substitute the monocular system to a binocular as it provides more depth perception, and remove the current green tint for the night vision.
Written by Solène Baudouin-Naneix, Liza Raïs and Joeri Rongé, European Defence Researchers at Finabel – European Army Interoperability Centre.
References :
Armyrecognition.com. (2019). [online] Available at: https://www.armyrecognition.com/weapons_defence_industry_military_technology_uk/textron_systems_delivers_next-generation_squad_weapon_technology_demonstrator.html [Accessed 13 Aug. 2019].
Cox, M. (2019). Army's Next Infantry Weapon Could Have Facial-Recognition Technology. [online] Military.com. Available at: https://www.military.com/daily-news/2019/06/01/armys-next-infantry-weapon-could-have-facial-recognition-technology.html [Accessed 13 Aug. 2019].
Cox, M. (2019). The Army has revealed when its new infantry weapons will arrive. [online] Business Insider. Available at: https://www.businessinsider.com/army-says-next-generation-squad-weapon-will-be-fielded-2023-2019-7?r=US&IR=T [Accessed 13 Aug. 2019].
Defence-blog.com. (2019). Textron delivered their Army's Next-Gen Squad Weapon technology demonstrator – Defence Blog. Available at: https://defence-blog.com/army/textron-delivered-their-armys-next-gen-squad-weapon-technology-demonstrator.html [Accessed 13 Aug. 2019].
Defence-blog.com. (2019). U.S. Army will receive 100K NGSW weapons systems for replacing M4 and M249 – Defence Blog. Available at: https://defence-blog.com/army/u-s-army-will-receive-100k-ngsw-weapons-systems-for-replacing-m4-and-m249.html [Accessed 13 Aug. 2019].
FL24.net. (2019). Une révolution dans l'armée américaine! US Army va changer le calibre de son armement léger et passer à l'intelligence artificielle – FL24.net. [online] Available at: https://fl24.net/2019/08/05/une-revolution-dans-larmee-americaine-us-army-va-changer-le-calibre-de-son-armement-leger-et-passer-a-lintelligence-artificielle/ [Accessed 13 Aug. 2019].
FN America. (2019). FN Down-Selected to Produce Two Prototype Options for U.S. Army Next Generation Squad Automatic Rifle Program | FN®. [online] Available at: https://fnamerica.com/press-releases/fn-selected-produce-two-prototype-options-u-s-army-next-generation-squad-automatic-rifle-program/ [Accessed 13 Aug. 2019].
Lacdan, J. (2019). Army to field new night vision goggles. [online] www.army.mil. Available at: https://www.army.mil/article/219674/army_to_field_new_night_vision_goggles [Accessed 13 Aug. 2019].
Lagneau, L. (2019). Le futur fusil d'assaut de l'US Army utilisera des cartouches de 6,8 mm en ayant recours à l'intelligence artificielle | Zone Militaire. [online] Zone Militaire. Available at: http://www.opex360.com/2019/08/04/le-futur-fusil-dassaut-de-lus-army-utilisera-des-cartouches-de-68-mm-en-ayant-recours-a-lintelligence-artificielle/ [Accessed 13 Aug. 2019].
Task & Purpose. (2019). The Army's new night vision goggles are finally here. [online] Available at: https://taskandpurpose.com/army-new-night-vision [Accessed 13 Aug. 2019].
The National Interest. (2019). The U.S. Army Wants to Use "Pokemon Go" Weapons To Kill the Enemy. [online] Available at: https://nationalinterest.org/blog/buzz/us-army-wants-use-pokemon-go-weapons-kill-enemy-67617 [Accessed 13 Aug. 2019].
USAASC. (2019). Next Generation Squad Weapons (NGSW) – USAASC. [online] Available at: https://asc.army.mil/web/portfolio-item/fws-cs-2/ [Accessed 13 Aug. 2019].