According to a survey carried out in Ireland as part of the Public Service Pay Commission, 58% of Defence Forces personnel plan to leave within the next two years. This would mean the loss of more than 1,100 personnel by 2021 on top of ongoing retirements. This would leave the Defence Forces at a 'critical point' within a 'very short time' which will therefore lead them to 'face major difficulties in maintaining its personnel and in carrying out its mandate'. The turnover in 2018 was 8.1%, up from 5.1 per cent in 2013.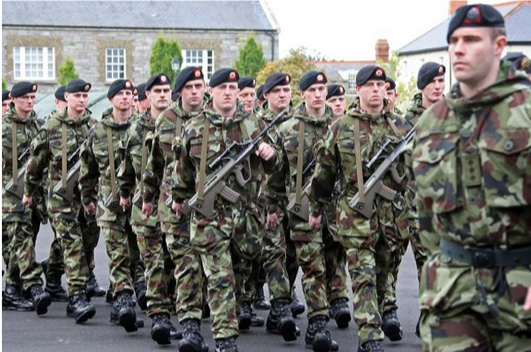 Indeed, the Defence Forces minimum 'establishment' strength to carry out its operations is 10,500, and it currently only has 8,750 personnel. The Defence Forces have tried to counteract these figures by investing €230,000 in a social media campaign as well as in cinemas, radio, and print in order to recruit more personnel. While this attracted 5,221 applications, only 231 new recruits have joined the Defence Forces in 2019, including only 12 females. This general trend is present in most European national armies, with an increasing shortage of voluntary personnel, especially women.
In total, 1,986 personnel across all ranks in the army, naval service, and air corps completed a questionnaire for the report while 139 took part in individual and focus group interviews.
The most commonly cited reasons for those who expressed an intention to remain in the Defence Forces were personal or family reasons (36.7%), pension eligibility (34.6%), and suitable working hours (30.9%). The most frequently cited factors for intention to leave were pay (84.5%), problematic staffing levels (73.6%), and better job opportunities elsewhere (59.9%). 47.2% also mentioned that job opportunities are too limited by their pension date (47.2%). 80% of the 'generalists' indicated they were likely to search for a job in a different organisation, 70% indicated they frequently thought about leaving the Defence Forces, 50% indicated they had actual job offers in hand and 43% indicated it was likely they would leave the Defence Forces in the next year. Moreover, most respondents would not advise the Defence forces as a career to their relatives.
Nearly one in four officers signalling their intention to quit cited an excessive workload due to under-staffing as their main issue. A general dissatisfaction with pay, allowances and pension arrangements were mentioned across all ranks. Broad agreement was expressed that the overall remuneration for the responsibility and level of work undertaken is insufficient. Payment for duty allowances was particularly mentioned in this regard, and personnel suggested the amount paid for a 24-hour duty was far too low. Participants also identified pensions as a key factor impacting on retention. Indeed, personnel felt reforms to pensions in recent years have removed the incentive to remain in the Defence Forces until the mandatory retirement age.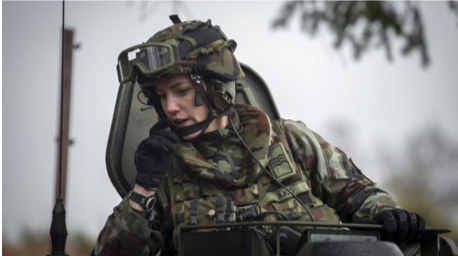 The report advised to focus on pay, allowances, recent reforms to the pension system, and duration of contracts as key issues directly impacting on recruitment and retention in the Defence Forces.
Following the report, the Cabinet has approved a €10.1 million package of increases in allowances. The changes will mean a boost in the pay for a majority of personnel of between €602 and €675 per year. Military service allowances, which currently range from €42 to €123 per week, are expected to be raised by 10 per cent.
The new measures will also see the return of Sunday premium rates, (an employee is generally entitled to paid time off in lieu or a premium payment for Sunday working) after a 10% cut to allowances under The Haddington Road Agreement.
Moreover, the recommendations will also lead to a pay raise to Defence Force members who serve as peacekeepers in UN missions. Indeed, an officer who completes a six-month armed peace support tour overseas will receive a tax-free payment ranging between €19,000 and €20,400 in overseas allowances, while enlisted personnel will receive between €15,300 and €16,100. As of today, 645 members of the Defence Forces are deployed in UN missions in 13 countries and 1 sea.
The Service Commitment Scheme, a loyalty bonus payment for Air Corps pilots in an attempt to encourage them to remain in the Defence Forces, will also be reintroduced for pilots, and will be worth around €18,500.
These measures, along with the increases from the current pay agreement, means that by the end of October 2020, pay will have increased by 34% bringing the starting salary to €29,206.
Written by Liza Raïs, European Defence Researcher at Finabel – European Army Interoperability Centre.
Sources:
Finn, S. (2019). Government says €10m boost to Defence Forces pay will make Irish military careers 'more attractive'. [online] TheJournal.ie. Available at: https://www.thejournal.ie/defence-force-pay-rise-4709725-Jul2019/?fbclid=IwAR0gR5X5esscJk9bxSWHgqAcXChao5Cv3TWbDednX1dNUaQiVSHhZYOd1q4 [Accessed 21 Aug. 2019].
Higgins, A. (2019). Defence Force only employ 231 new recruits despite forking out thousands on advertising. [online] The Irish Sun. Available at: https://www.thesun.ie/news/4452352/defence-forces-advertising-recruits/ [Accessed 21 Aug. 2019].
Irishexaminer.com. (2019). Irish mark 60 years as UN peacekeepers. [online] Available at: https://www.irishexaminer.com/ireland/irish-mark-60-years-as-un-peacekeepers-472303.html [Accessed 21 Aug. 2019].
O'Riordan, S. (2019). 60% of Defence Forces staff to quit in two years. [online] Irishexaminer.com. Available at: https://www.irishexaminer.com/breakingnews/ireland/60-of-defence-forces-staff-to-quit-in-two-years-939784.html?fbclid=IwAR19YYcsEx0BgzCs6F-a0X-8YlpDdfTtsN1AUrXms6oNmy0iY6XNFW-ZNKE [Accessed 21 Aug. 2019].
Paycommission.gov.ie. (2019). Report of the Public Service Pay Commission. [online] Available at: https://paycommission.gov.ie/wp-content/uploads/Dept-of-Defence-PSPC-report-2019-WEB-1.pdf [Accessed 21 Aug. 2019].
The Irish Times. (2019). Half of Defence Forces intend to leave within two years, report finds. [online] Available at: https://www.irishtimes.com/news/ireland/irish-news/half-of-defence-forces-intend-to-leave-within-two-years-report-finds-1.3946435?fbclid=IwAR2BPZ9m8z1v9EgCw8iskFVBUv3c-9NtEBQpqnczwKqeQOWbtrb-XbXai-M [Accessed 21 Aug. 2019].