Introduction
On Friday 13 September, the 2019 edition of the Defence and Security Equipment International (DSEI) expo drew to a close. The four day biennial exhibition, which is held in ExCeL, London, showcased a multitude of defence technology and innovation, with another strong showing in the Land Zone. With over 1,500 exhibitors and more than 80 countries represented, industry kingpins met with next-gen pioneers and armed forces officials to discuss, discover and demonstrate the vanguard of the defence and security landscape. In the land force sphere, three prominent themes emerged. The first of these was drones and their relevance to and integration with land forces. Secondly, the development and modernisation of vehicle platforms persisted as a central focus. Thirdly, there was evidence of promising progress in the development of personal battle awareness technology. This Info Flash will detail some of the key elements of each.
Drone-vehicle integration and the counter-drone technology arms race
Developments in drone technology are of the utmost consequence for land forces; the capability to utilise drones effectively and the capacity for countering hostile drones is integral to a modern fighting force. Once again, DSEI 2019 did not disappoint, showcasing many new or upgraded models. AeroVironment exhibited their Vapor 35 and Vapor 55 models for the first time at DSEI and explained how they can be employed in a support role. The vertical take-off and landing unmanned aircraft systems (VTOL UASs) have intelligence, surveillance and reconnaissance (ISR) capability and can be fitted for in-contact resupplies.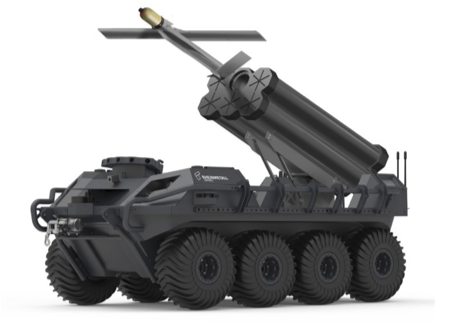 Rheinmetall took DSEI as an opportunity to present their Mission Master – a world first unmanned ground vehicle (UGV) equipped with unmanned air vehicle (UAV). The 8×8 UGV's integrated WARMATE UAV enables ground commanders to survey for, detect and engage targets with minimum risk to personnel. FLIR further contributed to drone-vehicle integration with its system that facilitates the deployment of Black Hornet UAVs – previously employed by both the US and UK armies – from a box attached to the exterior of a vehicle. The system allows for four of the UAVs, separately contained and protected, to be deployed without stepping outside the vehicle, thus gaining visual advantage without compromising the safety of the soldiers. In fact, Rheinmetall employed the system on the front of their Mission Master.
These examples of increased drone-vehicle integration contrasts to DSEI 2017 where Patria was the lone company to do so with a primitive mounting of the Black Hornet. 
As drones continue to increase in versatility and complexity, countermeasures must also be developed. DSEI saw a variety of counter-drone options, including the first vehicle-mounted counter-drone system by OpenWorks Engineering and SteelRock Technologies. Their SkyWall Auto Response Nightfighter combines radio-frequency disruption techniques with a net-based capture system to neutralise enemy drones autonomously or remotely. This coincides with the news from Haifa, Israel, that Elbit Systems is configuring its successful ReDrone counter-drone system for vehicular deployment. Their press release stated it would provide "any vehicle with a 360 degrees protection shield against hostile drones." Another counter-drone system was unveiled by General Robotics. Its Pitbull-3 is a remotely operated 'point-and-shoot' weapons station with both hard-kill and soft-kill capabilities, which, weighing in at only 70kg, can be easily installed on manned or unmanned platforms, including vehicles.
As counter-drone technology improves, counter-counter technology competes to outpace it. Drone Evolution launched its SafeFlight system at DSEI, which aims to render drones unjammable. Its multiple navigation systems and anti-jamming systems in the motors protect against electronic interference and a titanium shell safeguards against small arms fire and lasers.
The continuing advancement in drone technology provides land force commanders with an ever-increasing arsenal of capabilities. But it also poses a succession of threats to be guarded against that are more complex than ever before.
Vehicle platforms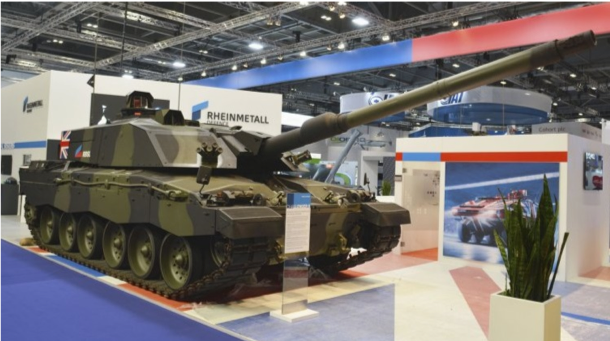 Ranging from reactive and passive armours to tanks and infantry fighting vehicles, the industry presented an extensive array of vehicle platforms and technologies, showing the most innovative systems and solutions. As one of the leading international expos in security and defence, this year's edition showed the rapid development and effectiveness of the different international contractors and demonstrated their effort towards the interoperability of European land forces. Although some of the proposals – such as Rheinmetall BAE Systems Land's Challenger 2 Life Extension Programme contender – have not yet been fully implemented, they will in the near future contribute to British interoperability with organizations such as NATO, by providing the Challenger 2 with ammunition commonality for the first time.
One particularly notable development was the Ukrspecexport's Zaslon-L active protection system (APS), which has been introduced to safeguard armoured fighting vehicles (AFV). With its anti-threat module, wave radar and anti-threat munition, the Zaslon can provide a high level of security. Elsewhere, General Dynamics Land Systems UK (GDLS-UK) presented an assault bridging variant of the Ares platform, which itself is a variant of the UK's Ajax AFV. Its Athena command-and-control (C2) variant of the Ajax AFV was also exhibited. Finnish defence company, Patria, displayed its 6×6 wheeled armoured vehicle fitted with the 120mm NEMO Mortar system; the armoured personnel carrier base configuration's development is complete, with the vehicle successfully undergoing amphibious testing in August.
DSEI 2019 has demonstrated the rapidly evolving environment in which the industry and European armies currently find themselves. With greater systems updates and an expanding catalogue of armoured vehicle solutions, the conference consolidated its status as an influential and outstanding solution-driven event bringing together leading industry experts with representatives from European armies. 
Personal battle awareness technology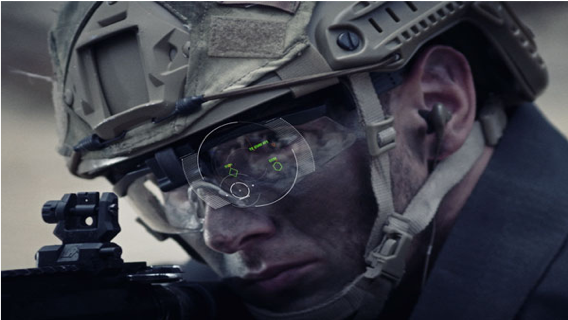 DSEI 2019 demonstrated the growing interest in personal awareness and assistance technology by armed forces. In particular, the British Army's keenness to develop in this area was evident. Its Dismounted Situational Awareness (DSA) system was on display after completing the experimental stage of its development programme. The package is run through a Samsung 7 phone held in a chest-mount and increases Shared Situational Awareness (SSA) with its battle management app. It can also be used to control the Black Hornet UAV. The system now moves into the optimisation stage, albeit with several issues reported. To gain inspiration for what the future technology of a soldier might look like, the Royal Marines recently invited engineering graduates from the UK Naval Engineering Science and Technology forum to its Commandos' Training Centre to learn about the Royal Marines and how they perform operationally. They then participated in a brainstorming exercise, devising devices and innovations that would aid and improve a marine's effectiveness.
For Elbit Systems, some of the futuristic tech envisaged is already becoming a reality. At DSEI, it presented four new command-and-control (C2) devices as additions to their DOMINATOR Warrior Combat Suite. The wearable devices include: SmartEye – ballistic eyewear with a C2 display; SmartNVG – C2 integrated Night Vision Goggles; SmartSight – a C2 add-on to weapon sights; and Smart WristView – a compact C2 display worn like a watch.
The head-mounted SmartEye eyewear projects an Augmented Reality (AR) overlay channelling multiple sources for enhanced visual awareness. SmartNVG provides navigational information improving the efficacy of night operations. SmartSight improves existing weapon sights by projecting laser rangefinder data and a compass onto it. Finally, Elbit Systems describes Smart WristView as "a compact, low-power, rugged, wrist-strapped C2 display, providing warriors with a quick and convenient view of operational data in combat situations without altering weapon's hold." Combined, these devices represent a step in the direction of a modern soldier with integrated battle awareness and intelligence technology.
Conclusion
The Defence and Security Equipment International expo provides a special opportunity for European armies. A melting pot of industry, military representatives and experts, DSEI has the potential to facilitate real cooperation and collaboration between national and international actors. As a hotbed of the latest technological advancements and equipment, it can act as an intermediate platform for the European armies to expedite progress and secure interoperability in the next generation of European land force hardware.
Written by Alexander Jeacocke & Catalina Lopez, European Defence Researchers at Finabel – European Army Interoperability Centre.