Created in October 1953 under the acronym FINBEL by the Ministries of Defence of France, Italy, Netherlands, Belgium and Luxembourg, then becoming FINABEL with the arrival of Germany (Allemagne) in 1956.
The Finabel Committee's initial task focused on the cooperation between armament programmes. This task quickly developed into the harmonisation of army doctrines.
Since the creation of Finabel was not the result of an intergovernmental agreement, Finabel has the status of an informal international de facto association.
During its existence Finabel has already provided more than 500 studies. Membership is open to all European States.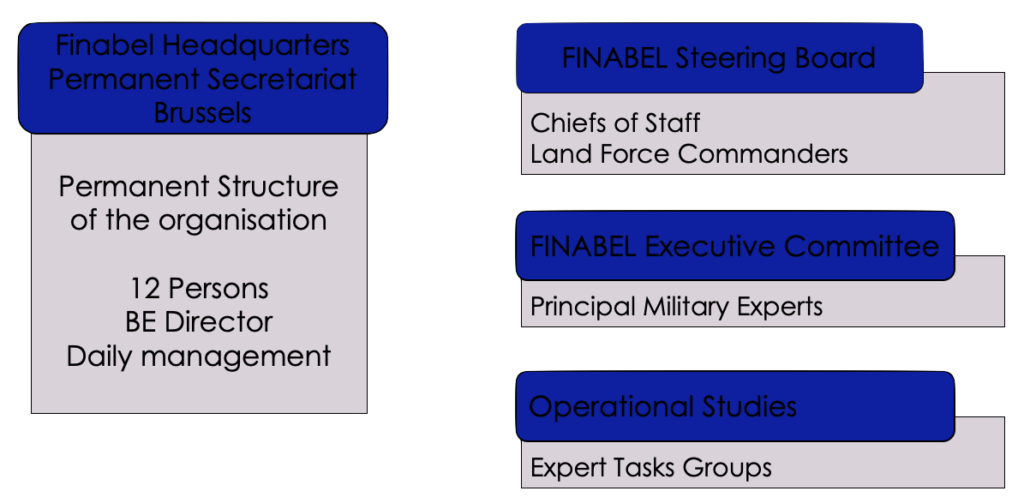 The Army Chiefs of Staff Committee (Executive Committee)
At the highest level is the executive, composed of the Army Chiefs of Staff and Land Force Commanders of the member states. It meets once a year to summarise the work of the past year and to establish the objectives of the coming year. The Chairmanship of the COS Committee rotates annually.
The Principal Military Experts (PME) Committee (Steering Committee)
Made up of primarily the senior officers or civilians responsible for doctrines, planning and studies within the staff of the land components of Finabel Member States. This Committee analyses the directives of the Chiefs of Staff and reformulates them in terms of missions. Belgium provides the Chairman for this Committee.
Expert Task Groups (ETG)
An ETG is an "ad hoc" group created at the request of one or more COS and basically lasting no more than one year. It deals with specific and/or urgent issues that need a common view. The ETG is composed by Subject Matter Experts (SME) of the memberstates and could be enlarged with external experts.
The Permanent Secretariat
Located in Brussels, the Permanent Secretariat is the only permanent structure. It provides the daily management of the organisation, deals with the coordination and organisation and is the representatif for international contacts and relations.
Observers
Finabel welcomes observer organisations from the EU and NATO. The objective is to consult the various points of views, preventing duplication and/or contradictions within NATO's doctrine or the concepts outlined by the military organisations of the EU.
"There is only one thing stronger than all the armies of the world: and that is an idea whose time has come."